Welcome to Elite Physiotherapy Services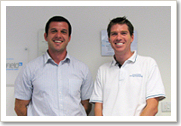 Elite Physiotherapy Services consists of a team of highly-qualified therapists with specialist clinical knowledge in a diverse range of conditions and treatments. We offer treatments for all musculoskeletal conditions including back pain, sports injuries and whiplash.
Clinics are conveniently placed in and around the Chelmsford and Essex areas offering appointments thoughout the day and evenings. Physiotherapists are available for information and, if appropriate, we aim to offer a Physiotherapy appointment within 24 hours.